********************************************************************************


WELCOME TO
BURNS COUNTRYSIDE CHURCH
We are a family friendly church with a desire to grow in our relationship with Christ and introduce others to Christ and help them grow. You are welcome to visit and we would love to have you!
***VACATION BIBLE SCHOOL***
June 6 – 10 at the Burns Community Center
Service Times
Sunday School – 9:30
Sunday Church – 10:30
Men's Bible Study on Tuesdays at 6:00 A.M at the church.
Women's Bible Study on Thursday at 9:00 A.M. at the Sticks & Twigs building in Burns.
Check events/calendar for youth group dates and other scheduled events.
Bulletins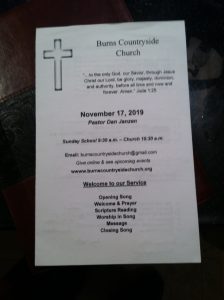 Click on a date below to download the bulletin: